The artisans were
awesome!
The girls rode ponies, decorated pumpkins, went to the petting zoo, watched a magic show (Annie Kate again got to get up on stage) and when we left we ran into mother goose.
I bought a incredible felted pillow from a lady from Hungary. She learned how to do this when she was a little girl in her village (at least that helped sell the pillow, who knows she is probably from Jersey) She sews the design on the reverse side and then cuts out the design on the front. I could have bought one of everything, but you know this pineapple was screaming at me. If anyone knows what this method of felting is called I would love to know, I am so amazed by it.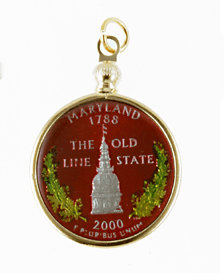 painted coins
The other cool artisan I found was this guy who hand paints real coins. The is a sample of the Maryland one. They are incredible. The photo does no justice! They are painted on both sides and then set in a hard enamel with a 14k gold rim and charm. You can click the above link to check it out. It would be an awesome gift or treasure to have to remember a state you lived in. They do every kind of coin. It is worth looking at.
Annie Kate holding the 3 week old rabbit.
It was again a wonderful Saturday in the east. see all our
photos here
.