Ok
so who says you don't learn anything reading blogs and that they are a waste of time?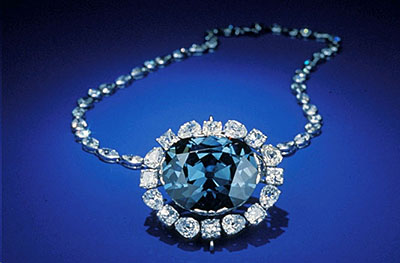 The hope diamond is 45.52 carats. This little contest gave me a chance to do a little more research of this awesome diamond. Here are the bullet points of what i learned.
This diamond has quite a history and is worth reading about.
the diamond is most likely from India
before the diamond was cut to its original size was over 112 carats and described as being a "beautiful violet"
this stone has been sold by it's owners to pay off debts, just another reason to stay out of debt. Can you imagine how sad it would be to HAVE to sell this if you owned it.
when it was cut to about 67 carats, the king would wear it around his neck on a ribbon (how

appropriate

the ribbon is the award this contest)
This is a photo of Mrs.

Evalyn

Walsh McLean wearing the Hope Diamond with the McLean Diamond (31.26 Carats) and Star of the East (94.8 Carats) attached - she has one strong neck!


Mrs.

Evalyn

Walsh McLean, of

Washington

D.C., bought the diamond after seeing it in Paris at the Cartier's auction. 1910 when she first saw the diamond she didn't like the original setting. Cartier had the diamond reset and then sent it to the US to have her borrow it for the weekend - his

strategy

worked because she bought it.

When she did died in 1947 it was purchased by Harry Winston.
the pendant around the Hope diamond has 16 white pear shaped diamonds
In December of 1988, a team from the Gemological Institute of America visited the Smithsonian to grade the great blue stone using present day techniques. They observed that the gem shows evidence of wear, has a remarkably strong phosphorescence, and that its clarity is slightly affected by a whitish
graining
which is common to blue diamonds. They described the color as a fancy dark grayish-blue. An examination on the same day by another gemologist using a very sensitive
colorimeter
revealed that there is a very slight violet component to the deep blue color which is imperceptible to the naked eye. Still, one can only wonder that the original 112 3/16-carat stone bought by
Tavernier
was described as "
un
beau violet" (a beautiful violet).
Really interesting and should get anyone excited to pay it a visit at the Natural History
Museum
when you visit D.C. When you look at it (there is always a huge crown around it) just think of the stories that diamond could tell. The smiles it has seen when one
acquired
it and the sorrow it has seen when when had to sell it to pay their debts. This would make for a great book, "if diamonds could talk"
Ok
so who won the 26.2 yards of ribbon. This was tough. I had to go by who was the first to comment as near the end their were a few that guessed correctly.
My previous ribbon giveaways were 11.5 yards as that is the size of my running shoe. But after my marathon (26.2 miles) it seems like a good number of yards to now giveaway.
Julia was the first to guess the correct 45.52

Julia said...
What a great museum! We will have to go to DC again...

I just saw the hope diamond a few weeks ago, but I can't remember if it was 44.52 or 45.52 carats. Eric commented that he was going to buy it for my engagement ring, but was worried that it would be too heavy for my finger. So thoughtful of him!
But then there were a few that were so close how could i not send them some honorable mention of yardage.
To Melissa - being from memory this is amazing you were only a hair off!

Melissa
said...
If my memory is correct (it's been known to fail me a time or 2) I'll say that the hope diamond is 45 1/2carats. Now I have to google it and find out if I remembered correctly.
this was after Julia but thought it was such a great story I had to reward Jen for sharing it with me.


Jenmomof4 said...
We got to see it a two years ago when we were there for a wedding. I could not believe how big it was. We always quiz the kids after we take trips like that on facts. The diamond was one of them. I had to make up a story so the kids would remember the weight. "When I am 45 Your dad will be 52" Which is true we are 7 years apart. So my answer is 45.52 carats.
and to Shannon who just took a guess and came so close.
Shannon guessed:
I am new to your blog but I want to guess!!!
45 carats
I have heard of the diamond before but never seen it
Now I need to go look it up!!!!
and there is your "blogucation" for the day!