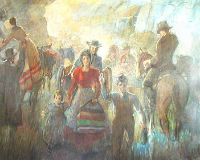 Happy Pioneer Day!
The above photo is one I have hanging in my home. It was given to me by Jeff's mother and it has a real special meaning to me. There was a sweet letter from her that was sent with the print that I have mounted on the back so I will never forget it. It is of a pioneer woman walking with her children holding a bag. It is a painting done by one of my favorite artists,
Minerva Teichert
.
n 1847, a group of Mormon pioneers, led by Brigham Young, headed out on a journey across the land with covered wagons and handcarts, determined to make a life in the west. They began the journey because they were suffering religious persecution where they were living in Nauvoo, Illinois. It is said that as Brigham Young gazed out on the Salt Lake Valley on July 24, 1847, he proclaimed "This is the Place".
As a kid we used to have a parade in NM and dress like pioneers and have a parade downtown, (what must people have thought?) I remember me and Heather and Margaret H. riding our banana seat bikes as we got older.
Today we spent the day at the pool, we needed a break! My friend Paige came by for a dip as well. Then we had a pioneer Family Home Evening watching Legacy and having our own pioneer parade in the basement.
the taffy pull and making paper bonnets just did not happen, maybe next year.
Happy Pioneer day!