the other night I was in my sewing room on the computer and Annie Kate came in and said, "I want to sew something!" As fast as she finished saying it a thought came to my mind to make
carrots
.
I had some orange fabric forever waiting for the perfect craft and this was it! It almost looks like chenille. (if you have old orange chenille, this would be perfect)
We put right sides together and just cut triangles all sizes.
She sewed them
together
, leaving the top of the carrot open. Stuffed it with batting. Then she gathered it together and sewed it shut. tie with some cool two toned ribbon.
They were the perfect item to put in my most recent
thrifted
item at a great thrift store in
Rockville
. (it was only $2.00!)
It was a great easy kid project because the results are fast! and so
perfect
for Easter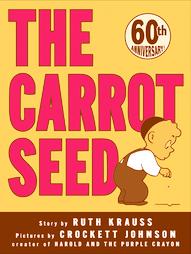 Edit*** thanks to Michelle's comment it made me think of this great book. these fabric carrots are so easy and fast to make you could give these to
YW
for a lesson on faith, and using
this book!
Of course i always endorse following up with any scripture story as well, but these are a great reminder of the lesson learned.